Home
Home is more than just a house these days. It's a safe haven from a hectic world. A place to be with friends. To watch the kids and grandkids grow up. Home is a place where memories are made.
 
A Place to Build Memories
At Landmark Homes we build homes where your family can build memories. Inviting kitchens for enjoying great food. Elegant living areas for welcoming guests. Quiet retreats for recharging from busy schedules.
We work with you to create the perfect home to fit your lifestyle. Built-in entertainment centers, book shelves and computer desks for families with children. Spacious guestrooms, home offices and hobby rooms for families whose children are grown.
Beautiful Interiors Designed for Living
Step inside a Landmark home and you'll find the perfect blend of contemporary design and everyday functionality.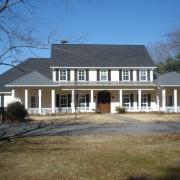 Beautiful moldings, trim and wall treatments make your home come alive. Windows and high ceilings open up the space and add light. Easy-to-do countertops, generous storage spaces and well-designed floor plans make your home liveable.
 
A Landmark home is built with craftsmanship. whether it's 1,500 or 4,500 square feet. The finest materials for solid values. Classic architect for enduring beauty. Quality and pride that's hard to find these days.
Solid Construction Made to Last
Landmark homes are engineered to last. Durable roofing and paint, heavy-duty wiring and high-traffic flooring. Solid traditional construction that doesn't cut corners, combined with the latest high-tech products.
From low-maintenance siding, brick and stone exteriors to high efficiency insulation, windows and environmental systems, a Landmark home can save you time and money for years to come. It's the home of a lifetime you won't spend your lifetime and life savings maintaining.
Your Owner's Manual
To make the transition into your new home even easier, Landmark Homes provides each new owner with a Homeowner's Manual. It's detailed guide to product manufacturers, warranty information and care instructions for all the materials in your home.
We not only want to build your new home, but also build a relationship with you and make your dreams come true long after the building process is complete.